DAF respects your privacy. We use cookies for a variety of purposes, such as website functionality, improving your experience of our website, building integration with social media and helping target marketing activities within and beyond our website. By continuing your visit on our website, you are consenting to our use of cookies. However, if you want to customize your cookie preferences, click on 'Change settings' below. You can withdraw your consent at any time. For more information, please visit our Cookie Notice.
Fons Jans
Director at Hamer B.V.
"
A genuine
DAF man
who is proud of his fleet and his
DAF trucks."

As owner and director, Fons Jans is responsible for a firm with 450 employees and a fleet of 85 trucks, of which 98 per cent are DAFs. Jans also has a collection of DAF classics, including a few very rare specimens. In short, a genuine DAF man who is proud of his fleet and his DAF trucks.
The Hamer engineering company built its reputation primarily on the construction and maintenance of equipment for filling stations. Over the years the firm has expanded into other areas, too. Fons Jans: "We are still active in the filling station world, where we work for a number of leading brands. But today our work extends far beyond installing equipment alone. We also build the shops and provide a comprehensive maintenance service. In addition, we supply air treatment units and workstations, as well as having our own hydraulics and body workshop."
The stylish truck fleet, all decked out in dark blue, consists almost entirely of DAF trucks and everything in the office breathes DAF, too. In fact, Fons Jans is a huge fan of everything to do with trucks and motor sport. Combined with his love for DAF, this has resulted in a rally team that now boasts three DAF 4x4 rally trucks. "We started out with a rally truck that used to belong to Dutch rally driver Hans Bekx, but that vehicle has since retired after clocking up over 100,000 rally kilometres. My son and I will be driving an XF 4x4 with an MX13 engine in the Morocco Desert Challenge. We have a terrific team with lots of enthusiastic people, including the astronaut André Kuipers, who will be driving a Toyota 4x4''.
Jans' love for DAF stretches even further than his own fleet and rally trucks. He also has an extensive collection of unique DAF trucks that includes an original DAF racing truck, a NAT 2800, an old Torpedo DAF and possibly the oldest, still-operational DAF truck around, a 1951 'seven-striper' with matching swing axle DAF trailer. "And that's not all. I also have a DAF A10 delivery van in fire engine livery." Connoisseurs know just how unique that particular van is, because the only one other example is in the DAF Museum. The collection also contains a DAF 1600 and a number of 2800, 3300 and 3600 Space Cab tractors, including a 6x4 that has been driven in Australia. Fons Jans is a unique character with an equally unique collection of DAF trucks. Undoubtedly the perfect candidate for this column: Proud DAF.
Fons Jans
Owner and director at Hamer B.V.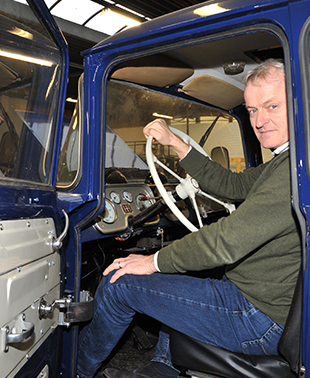 Also interesting to read: